This is my first battle report, and you will have to excuse it for being hard to follow or not particularly specific. It was my opponent's first game (apart from one allied game), and our lists were greatly at odds. The circumstances of the battle were additionally complicated by my opponent's probability-defying rolls; on average, he rolled twice as many 1s and 2s as all his other rolls combined, only rolling higher in situations where he wouldn't want that. This resulted in terminators failing armor saves all the time, psycannons missing almost every time, s7+ shots failing to wound, deepstrikers flying off the table and onto a building, and other horrible accidents. His most common roll: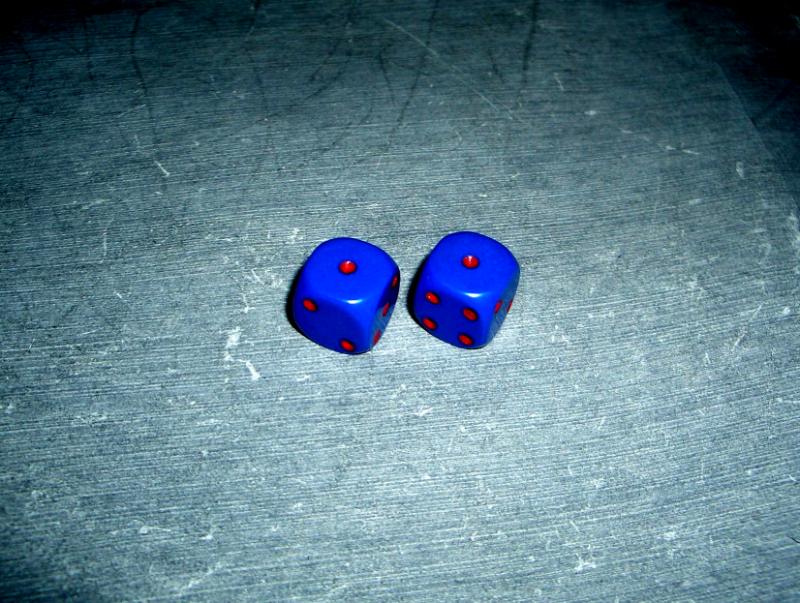 He brought a list that could shred infantry of all types with ease, but was forced to use it against dreadnoughts. This resulted in me wiping out half of his army by the end of turn 2, at which point I made the mistake of engaging in close combat, facing monstrous resistance. The champions of Titan absolutely refused to yield, and the following matchups lasted through to turn 5:
-Crowe and single Purifier vs 2 dreads (one venerable), and a 5-man scout squad; I won, but it took forever, and I lost 4 scouts in the process, despite getting great rolls and Ross getting horrible ones. Crowe kept adapting different stances throughout, and each time I failed to hit him. In the end he got caught by a swipe of the Venerable dread's massive fist, and was destroyed.
-After jumping down from the roof, the Dreadknight faced a firing squad and the subsequent multiple assault. He got hurt, smashed the Master of the Forge and his servitor before they got to use their servoarms, and battled the Ironclad for another 2 turns, tearing one of its arms off. Then I killed it.
-Most surprisingly, the Paladin behind the building hammered at the Dread for 3 whole turns, and destroyed it in the end, surviving the resulting explosion. By the end, there was an air of supernatural horror around him. He seemed immortal.
Ross fought valiantly, unrelenting way past the point he had almost no chance of even tying. He had complete trust in his Knights, and they in turn refused to let me have an easy victory, using their psychic abilities and superior wargear to the fullest extent possible. At one point, Crowe actually landed a penetrating hit on the Venerable, almost killing it. As dire as his condition was throughout, I hardly felt at all like victory was certain- the psychological impact of seeing my giant killing machines and outnumbering infantry struggling to control his whittled down forces was considerable. Great first battle, Ross!
As for my performance, I am not happy with how I did (poor deployment, bad movement choices, barely got any use out of my hqs), but I was blown away by how exciting and wild the battle was, and regret nothing! On a side note, I hope close combat stays at least as entertaining and crazy in 6th as it is in 5th.
ugly table, pretty terrain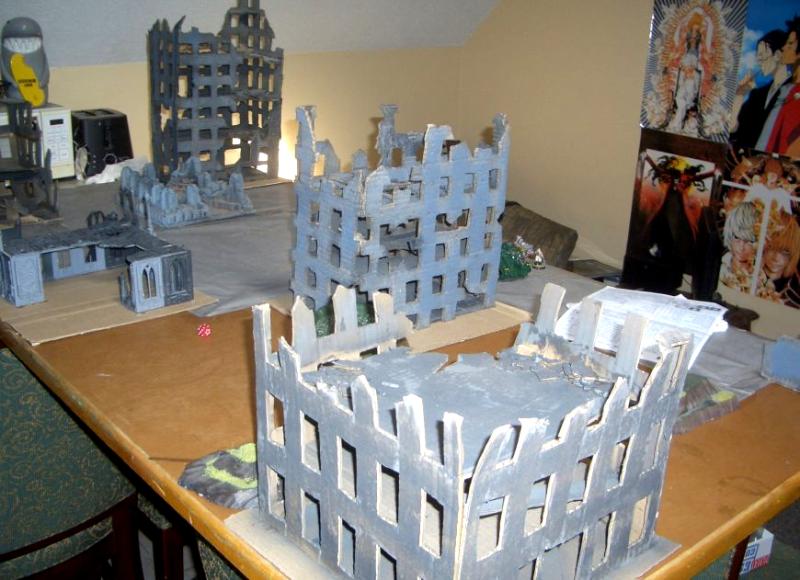 my army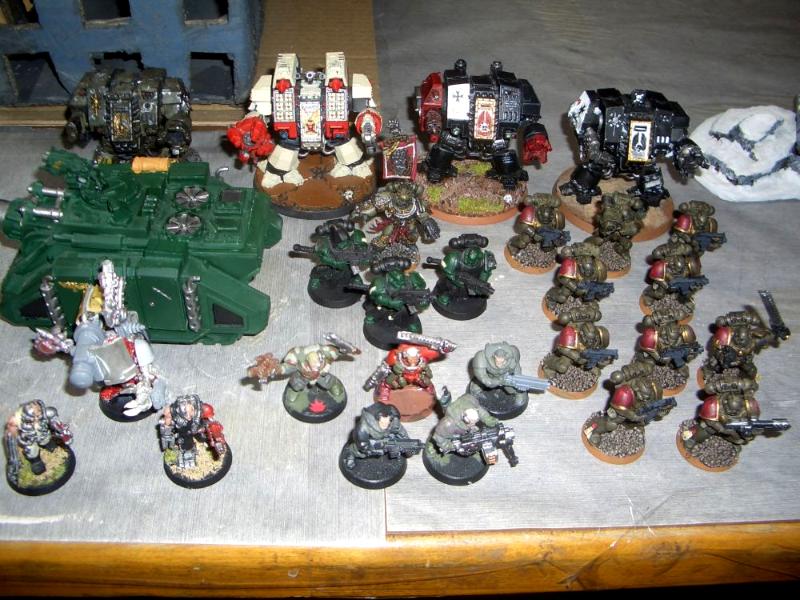 Ross' army
We played on a ugly, unfinished 3x6 table, because that's what I have, the setting (set by Zamfir's awesome home-made terrain) being the ruins of an ancient city. Our deployment zones were 6 inches from the edge as a result of the table's limited size, and the mission was Seize Ground with 4 objectives. I had a Tactical squad and Scout squad (who later outflanked on the right) in reserve, and he had an unfortunate Strike squad (the one that deepstruck off the table) and the Dreadknight. As you follow the pictures, you will notice it was a fluffy battle, as we both deployed uncompetitive lists and gradually left strategy and winning behind and started brawling it out for the fun of it. I won by holding 2 objectives in the end.
--Emperor's Orphans Reclamation Force
HQ Master of the Forge (poweraxe+stormbolter) and 2 Servitors
HQ Chapter Master Pedro Kantor with Honour Guard (relic blades, aux. grenade launchers)
TR Tactical squad (ten-strong, missile launcher, flamer, melta bombs)
TR Scout squad (five-strong, camo cloaks, heavy bolter, shotgun, blade+boltpistol x2)
HS Vindicator (no upgrades)
HS Venerable dread (assaultcannon)
EL Dreadnought (multi-melta, extra armor)
EL Dreadnought (multi-melta, extra armor)
EL Ironclad dread (chainfist, assault launchers, heavy flamer, hunter killer missile)
--Ross' Grey Knights
HQ Castellan Crowe
HQ Ordo Hereticus Inquisitor (condemnor boltgun, powerarmour, powersword, psyoculum)
Warband: 10 acolytes with hotshot lasguns
TR Strike squad x5 (psycannon, 3x sword, warding staff, psybolt, warpquake)
TR Strike squad x5 (psycannon, 2x halberd, 2x sword, psybolt, warpquake)
EL Paladins x3 (hammer, halberd, sword, psybolt, all mastercrafted)
EL Purifiers x5 (2x psycannon, halberd, sword, deamonhammer, psybolt, digital weapons)
EL Purifiers x5 (incinerator, psycannon, 2x sword, halberd, psybolt, digital weapons)
HS Dreadknight (heavy incinerator, heavy psycannon, personal teleporter)
* Knights of the Flame and Justicars have everything mastercrafted.
deployment and first turn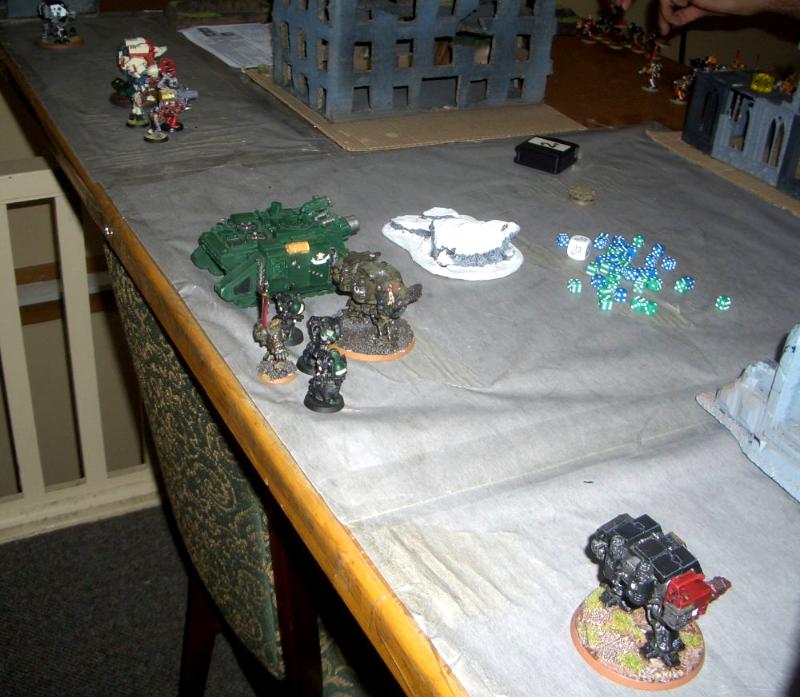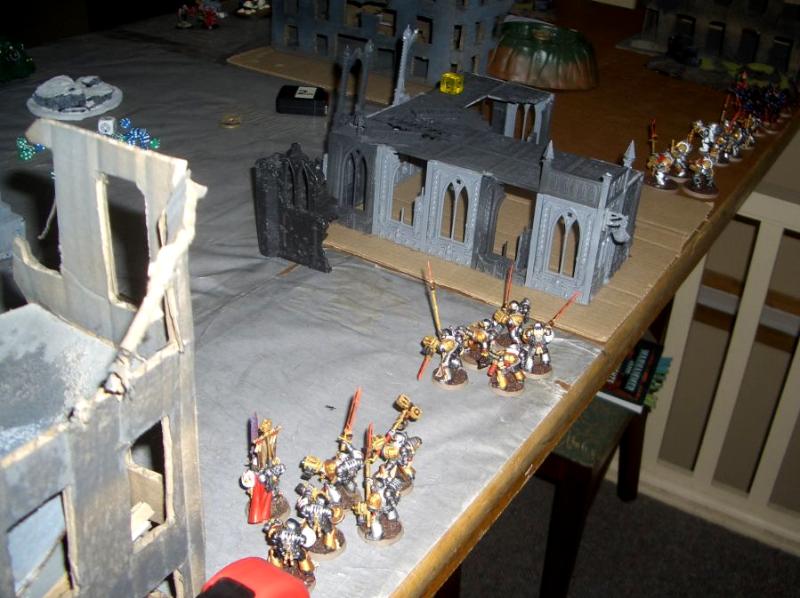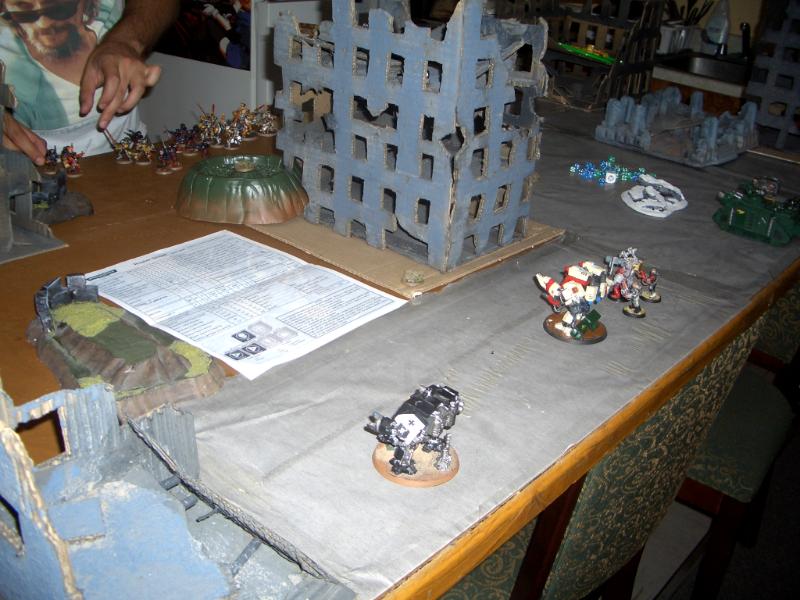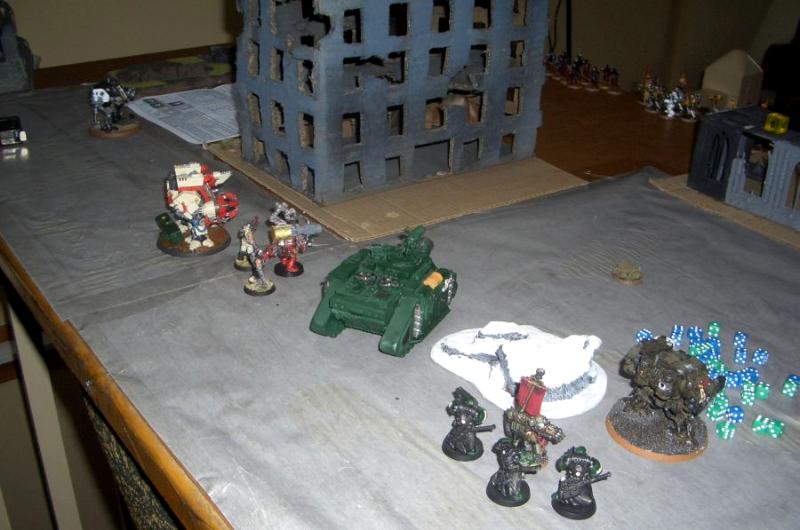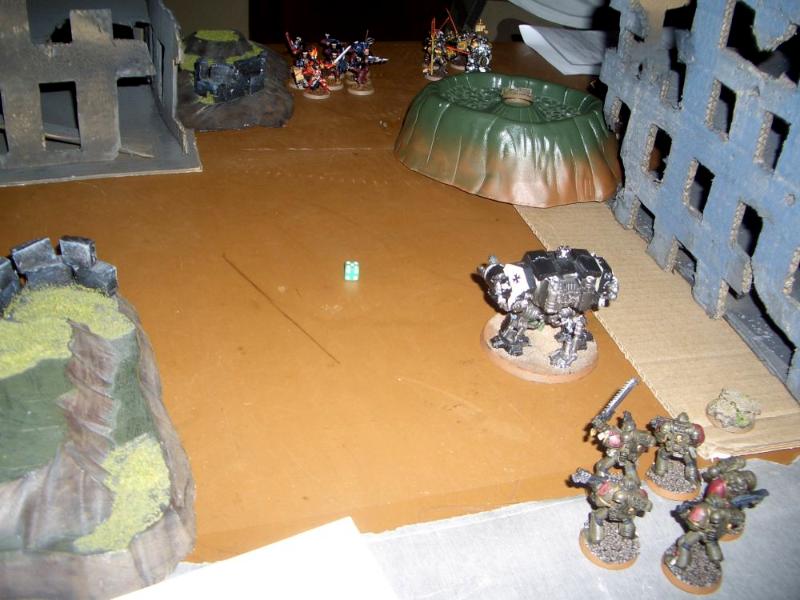 and from then on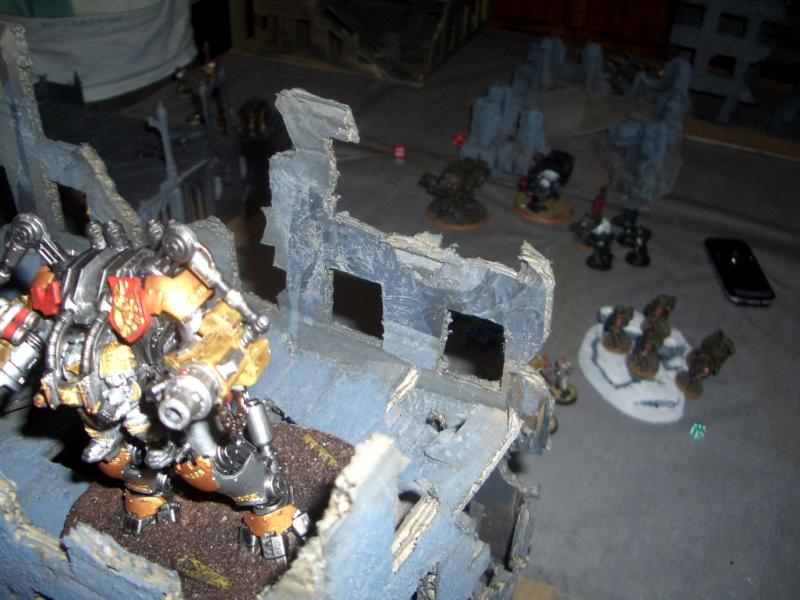 assault follows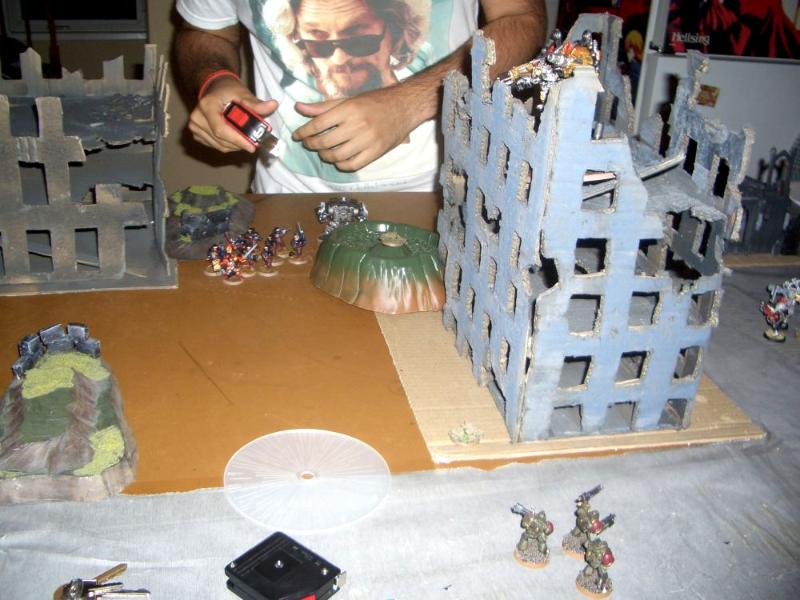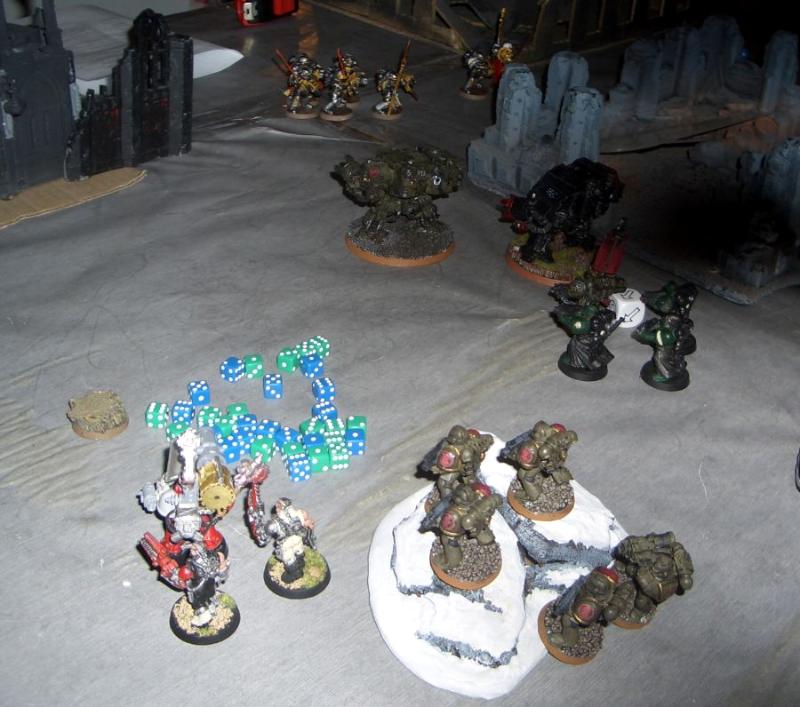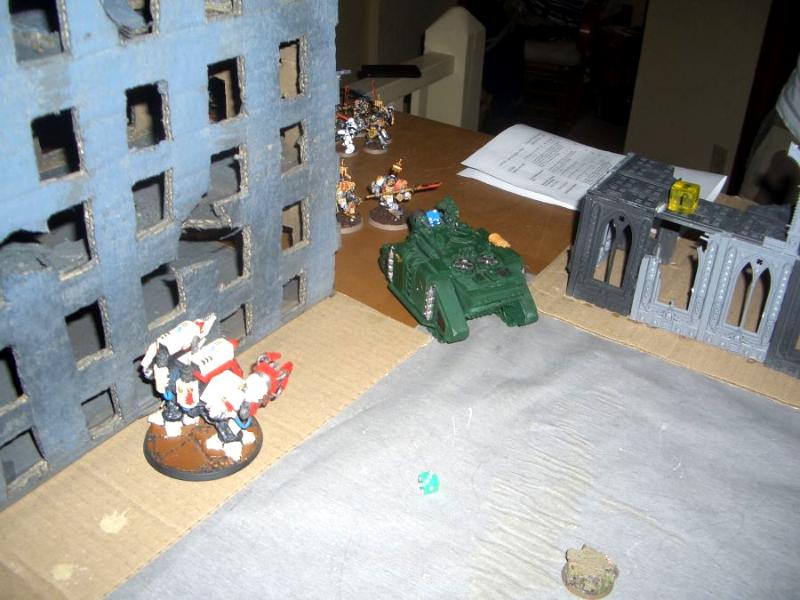 end of part one